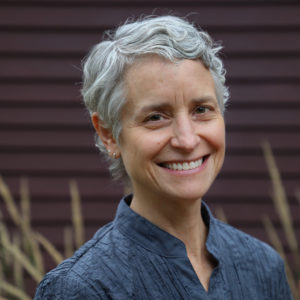 Elizabeth Crawford is a children's book illustrator and writer, sculptor, and photographer living in Minneapolis, Minnesota, on Wahpekute land. She received her BA from Colorado College, Colorado Springs, and her MFA from Pratt Institute, New York City. In a long love affair with clay, she has created and exhibited sculpture since 1989. Her ceramic murals and installations appear in schools and outdoor spaces in Minnesota and New York.
In 2000, she began photographing her sculpture in environments as children's book illustrations. In 2003, Elizabeth illustrated her first children's book with Touchstone Center Publications, Cave: An Evocation of the Beginnings of Art, by Richard Lewis.  After working as a publications director, she returned to illustration in 2015 with an iPad readers series developed by Tools of the Mind, publishing several books with this educational group.
Current work includes an extensive project focused on ordinary urban plants. Elizabeth has produced scads of photographs transforming the natural objects she collects into all manner of animated forms. See samples in Looking. Her plant photography and animation also fuel ongoing collaborations with Richard Lewis and the Touchstone Center for Children (see Darrow's Poem).
To complement and develop her children's book work, Elizabeth has brought her newest artwork and book concepts to local community schools, experimenting alongside students to hone the best of her ideas. She has also helped elementary grade students illustrate and publish their ideas in student literary journals and has worked with kindergartners through adults as an art educator in Colorado, Minnesota, and New York.
In her attic studio, Elizabeth assembles and photographs the plants she collects, occasionally interrupted and always supported by her human and non-human animal family.
Elizabeth is  represented by Victoria Wells Arms of Wells Arms Literary LLC in association with HG Literary.